We had a great turnout for the International Association for the Study of the Commons (IASC) 2023 Conference in Nairobi, and this year OSH was represented in a handful of panels, including:
The Open Source Hardware Commons: Exploring the environmental and socioeconomic benefits of OSH and the Right-to-Repair movement


This panel explored how the OSH Commons can help provide alternatives to the current predominant model to ensure that physical goods can be made available to those who need them in a way that is more environmentally sustainable, socially beneficial, and economically viable. We had broad representation across the IOPA with the following panel presentations:
A New Standard for Open Electronics Design-data to Aid Repairability, @AlexKimber (representing co-authors @kaspar and Shrouk El-Attar)

The role of AfricaOSH in the open science/source hardware movement, and how networked ecosystems of community and shared events are transforming the work of OScH, @Frank_AfricaOSH

Trust in material peer production, @TiberiusB (representing co-author Unai Gaztelu)
Over the course of the conference week, the receptiveness and collaborative nature of attendees from all over the world was impressive - however, the lack of awareness of OSH, generally by attendees, was surprising! At the end of our panel session, attendee Dr. Charles Schweik (current president of the IASC), posed the question - "what comes after Nairobi?"
The general consensus amongst session attendees is that there is strong interest in continuing conversations, and getting cross-industry dialogs like this one happening more frequently. This could come in the form of collaborative OSH-focused events between the IOPA and IASC. This then leads to a question for this community:
What sort of events would you like to see, and/or would be of the greatest benefit to the global OSH community?
Your thoughts and feedback are most welcomed as we continue our dialog with a global organization that is academe-focused, helping to make connections and seek out new partnerships across sector divisions. Share your ideas here in this thread, or directly with panel co-chairs @max_w and @schutton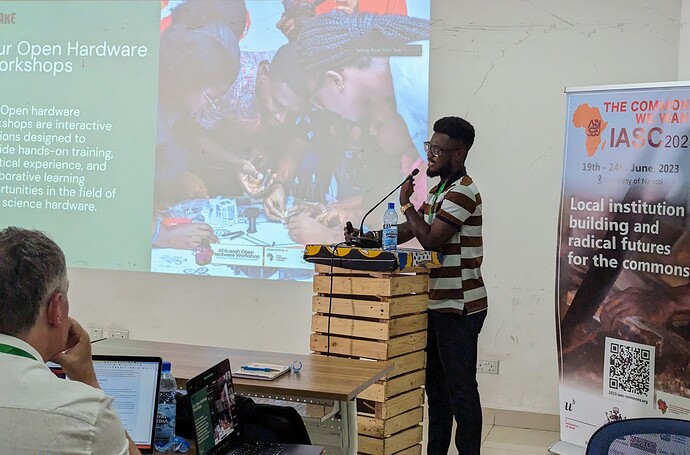 Frank Bentum, Executive Manager at Africa Open Science and Hardware (AfricaOSH)