What is This Channel For?
This channel was created to share events and opportunities of interest across the Open Source Hardware (OSH) ecosystem. Content you post is shared concurrently with the community forums for the following organizations:
What Type of Content Should I Post on This Channel?
Channel Content Guidelines:
Scope: related directly or indirectly to open source hardware (OSH); if indirectly related, a brief explanation of the connection, the "why should I care" will be included with the post

Included: anything that could be participated in on a global scale, either online, or of a scale/open for broader community participation regardless of location

Not included: smaller local/regional hackathons/meetups/council or governance meeting

Examples: community calls, conferences (like the OSHWA Summit), online events/programmes
How to Post Something on This Channel: "Broadcast" Tag
When posting to this channel, you must apply the "broadcast" tag to push it out to the other forums: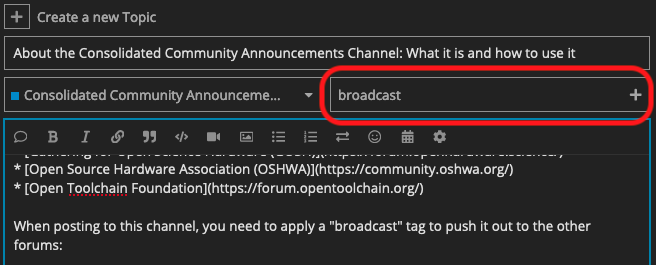 Over the part few months, it has become clear that this channel is pretty helpful! I know that at least personally, I've been receiving more inquiries from folks in other communities as a result of sharing information more broadly.
If you have any questions about this or any of the other channels on the IOP forum, feel free to reach out to @schutton at any time - and for broader community and open hardware community discussions and communications, @schutton , @briannaljohns and @OSHWA are glad to help.